ARTIST'S BOOK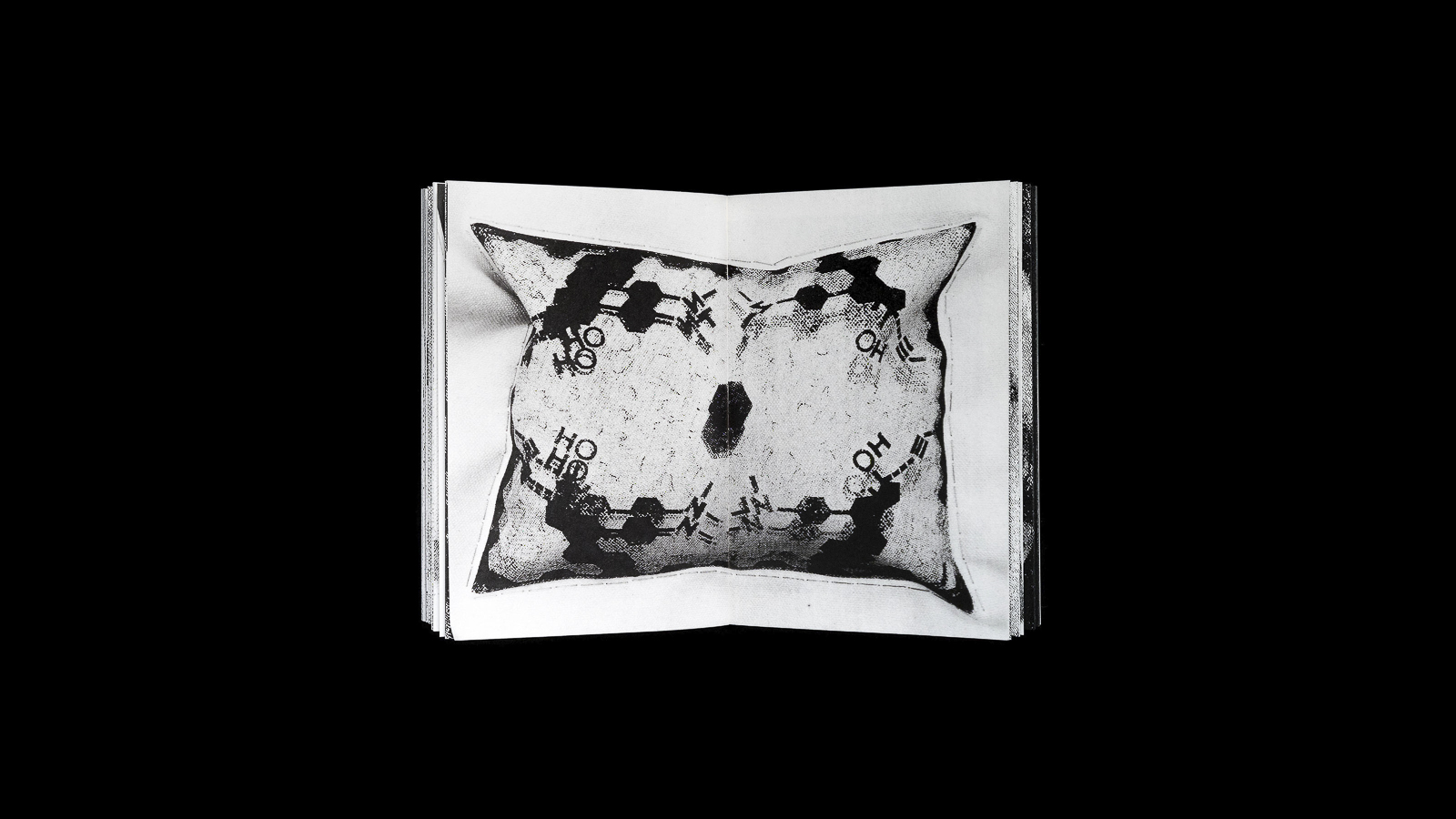 SCREEN


---

Tombolo Presses
17 rue Aublanc 58000 Nevers, France

artist's book
11 x 18 cm
104 pages
2017
ISBN 
979-10-96155-05-7
Editor
Thierry Chancogne
Conception
Arthur Fouray
Design
Arthur Fouray
DISTRIBUTION
Printed Matter
les presses du réel
Motto Distribution
ACKNOWLEDGMENTS
Marielle Chabal
Thierry Chancogne
César Chevalier
Lauren Coullard
Philippe Decrauzat
Elise Lammer
Élisa Langlois
Christophe Lemaitre
Motto Distribution
Julien SIrjacq
Jérôme Valton
Alexis Zavialoff

LAUNCH


---

Motto Berlin
Skalitzer Str. 68, 10997 Berlin, Germany
18.05.2017
The launch of the book is accompanied by a talk between Rachel Walker and Arthur Fouray. A bookshelf will display books published by Tombolo Presses in recent years.

SCREEN is a multimedia artist book by Arthur Fouray. Its title, embodies his artistic process which spreads here across two main formats : painting/serigraphy on cushions and a printed material. The publication sets a comprehensive entry point into a research that Arthur Fouray began in 2015 with his solo show « Spectre » at espace Quark, Geneva. Through art and decoration history, he questions the shift between painting before the industrial revolution and the cinematographic experience. He proposes to the onlooker an art experience which teases the unsaid.

NOTES (2013 - 2015)
M
April 21 2013—October 21 2015


---

Micronaut
Rue du Verger 4, 1800 Vevey, Switzerland

artist's book
15 x 21 cm
104 pages
2015
Editor
Julien Gremaud
Conception
Arthur Fouray
Design
Bureau Mondial
Pierre Girardin
Nastassia Montel
POSTFACE
Interview with Julien Gremaud
Distribution
Printed Matter
Motto Distribution
TYPEFACE
NCM - AF
Designed by Arthur Fouray for Nastassia Cougoulat Montel.
ACKNOWLEDGMENTS
Corinne Belin
Bureau Mondial
Philippe Decrauzat
Julien Fischer
Alain Fouray
Frédéric Gabioud
Pierre Girardin
Hugo Haeffner
Léa Lamy
Élisa Langlois
Nastassia Montel
Vincent Normand
Chi—Long Trieu
Louis Ziéglé

At the same time an autobiographical abyss, a subjective compilation, an irrational encyclopedia, M is a transitional support, which, by shifting precisely from the web to paper, questions our current relationship to reading.

QUOTES


---

"M (Micronaut #8) by Arthur Fouray is an editorial project initiated in 2012. It represents a singular approach to publishing and artist books. In three years of activity, the book series took several different forms, engaging in a dialogue between disciplines and blurring the boundaries between all the actors involved in the process of creating a book."
Curatorial Research Bureau


---

"This book is the printed version of a surprising notes system held by Arthur Fouray on http://www.mmm.af"
Motto Distribution


---

"Purchased by MOMA Library"
Printed Matter

MMM


---

mmm.arthurfouray.art

WEBSITE
21.04.2013—21.10.2015

@ARTHURFOURAY
---
4 rue Balze, 13200, Arles, France
+33 6 18 84 08 48
arthur@arthurfouray.art
JOY DE ROUVRE
---
2, rue des Vieux-Grenadier, 1205 Geneva, Switzerland
+ 41 79 614 50 55
info@galeriejoyderouvre.ch
ARTHUR FOURAY


---

1990
Paris, France

EDUCATION


---

2013—2015
ECAL
Master HES-SO in Fine Arts, Renens, Switzerland


---

2011—2013
ECAL
Bachelor HES-SO in Fine Arts, Renens, Switzerland


---

2008—2010
ESAG Penninghen
Art Director Bachelor, Paris, France


---

1998—2008
ÉCOLE ALSACIENNE
Baccalaureat, Paris, France

PROJECTS

---

2016—2018
DOC
Curator Team, Project Space, Paris, France


---

2015—2018
Silicon Malley
Co-Founder, Artist-Run-Space, Prilly, Switzerland


---

2013—2015
A + O -
Online Project
https://a-plus-o-min.us

WORK


---

2019—
LUMA Arles
Junior Archivist & Curator, Arles, France


---

2017—2019
Matthew Lutz—Kinoy
Studio Manager, Paris, France


---

2017
Philippe Decrauzat
Assistant, Paris, France


---

2013
Pierre Huyghe
Assistant, Pierre Huyghe Studio, Centre Pompidou, Paris, France

ARTIST


---

SOLO SHOWS


---

2017
Caravan
Aargauer Kunsthaus, Aarau, Switzerland
2080
ZQM, Berlin, Germany


---

2015
Osmosis
La Placette, Lausanne, Switzerland
Spectre
Quark, Geneva, Switzerland

ARTIST


---

SELECTED GROUP SHOWS


---

2018
Galerie Joy de Rouvre
Art Genève, Geneva, Switzerland


---

2017
Greffes
Académie de France à Rome, Villa Medici, Rome, Italy
3 years, Smart Move
Galerie Joy de Rouvre, Geneva, Switzerland
PRIX Novembre à Vitry
Vitry sur Seine, France
MONO
DOC, Paris, France
Ristretto
le Marquis, Saint-Denis, France
Nouvelle Collection Paris
ENSBA, Paris, France
Jeudi x PRP
Art Genève, Geneva, Switzerland


---

2016
Frédéric Gabioud, Arthur Fouray, Baker Wardlaw
Joy de Rouvre, Geneva, Switzerland
Cruising
Salts, Basel, Switzerland
RÉ DO
Curated by Silicon Malley, La Cabine, Clermont-Ferrand, France
Kiefer Hablitzel PRIZE
(nominee)
Swiss Art Awards, Basel, Switzerland
Les lèvres nues
DOC, Paris, France
Tous les tableaux sont à l'envers
Circuit, Lausanne, Switzerland
Accrochage Vaud
MCBA, Lausanne, Switzerland


---

2015
Private Life
Can Sep Simo, Ibiza, Spain
Nuit des musées
Curated by Simon Paccaud & Stéphanie Serra, Musée Jenisch, Vevey, Switzerland
Life is a Bed of Roses
Curated by Stéphanie Moisdon, Fondation Ricard, Paris, France


---

2014
S.Y.N.N.A.G.M.A SHOW
Quark, Geneva, Switzerland
Summer Camp
Happy Baby Gallery, Crissier, Switzerland
The Rise of the New Creative Class
Allianz Club, Renens, Switzerland

ARTIST


---

ARTIST'S BOOKS


---

2017
SCREEN
Tombolo Presses, 107 pages


---

2015
M
Micronauts Publishing, 384 pages

ARTIST

---

SELECTED PUBLICATIONS

---

2018
Art Club
Académie de France à Rome, Villa Medici, Rome, Italy
Caravan
Aargauer Kunsthaus, Aarau, Switzerland


---

2016
FPWM C.06
Arter, to Art, Artarre, Kunsten
Éditions Climanen, Geneva, Switzerland

CURATING


---

SOLO SHOWS


---

2018
Fondation Vincent van Gogh Arles
Pierre Joseph, DOC, Paris, France
Work Sucks
Gabrielle Garavaglia, Silicon Malley, Prilly, Switzerland


---

2017
Manners Maketh Man
Christophe Lemaitre, DOC, Paris, France
So Leggere
Francesco Cagnin, DOC, Paris, France
free time
Demelza Watts, Silicon Malley, Prilly, Switzerland
TERRASSE 2013—2017, MIXED MEDIA, 300 × 300 × 125 CM, 2017
Silicon IVIalley, Art Genève, Geneva, Switzerland


---

2016
Guitars
Francis Baudevin, DOC, Paris, France
Suite
Nicolas Degrange, Silicon Malley, Prilly, Switzerland
START THE SHOW: PRESS THE LIGHT
Antonin Fassio, Silicon Malley, Prilly, Switzerland


---

2015
1
Robin Lebey, Silicon Malley, Prilly, Switzerland
Guitare, Tanpura et Tabla électronique.
Myriam Stamoulis, Performance, Silicon Malley, Prilly, Switzerland

CURATING


---

GROUP SHOWS


---

2018
ON Italian museography..
EPFL Studio master 1, Silicon Malley, Prilly, Switzerland
Tournures
Grichka Commaret, Kim Farkas, DOC, Paris, France


---

2017
La Nuit Juste avant les Forêts
Curated with Corentin Canesson, Lucas Erin, Eva Vaslamatzi, DOC, Paris, France
Terrasse 2017 —
Silicon Malley, Prilly, Switzerland


---

2016
Cluster
Noémie Vulpian, César Chevalier, Silicon Malley, Prilly, Switzerland
Rob a Robe
Curated with Lauren Coullard, DOC, Paris, France


© ARTHUR FOURAY 2019